Are You Interested In Becoming A Teacher?
Last updated on January 20, 2021 3:02 pm
Join us at the "It's Great To Be A Teacher 2021 Event"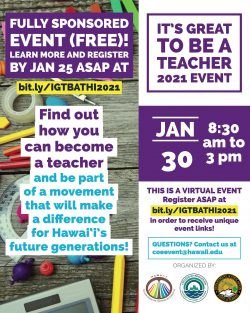 IGTBAT 2021 flyer FINAL
Saturday, January 30, 2021 from 8:30am to 3:00pm. Join us to find out how you can become a teacher and be part of a movment that will make a difference for Hawaii's future generations! This is a virtual event. Register now at
bit.ly/IGTBATHI2021
in order to receive unique event links. If any of the statements below apply to you, register now.
You're a substitute teacher thinking of going full-time
You're an educational assistant
You're a college student thinking about your major (or minor)
You're a high school student getting ready for college
You're a mid-career changer
You believe that education could well be your calling
You're curious!